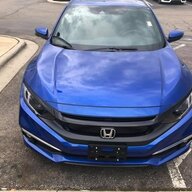 First Name

Robb
Joined

Sep 10, 2020
Messages
Reaction score

273
Location
Car(s)

2019 Honda Civic EX Coupe
I'm not worried about it, just stating that it doesn't look like a Type R to me. Not knocking it for those that prefer a tame look. The downside is it's made in the states not from the plant that made them for 25 years in Swindon.
I'll admit the tamer interior doesn't really fit the image of the Type R... or even an Si for that matter. However, such a simple design lends itself to added sporty appointments (sport seats, flat bottom steering wheel, honda's typical red interior appointments, etc). So it'll be interesting to see what they do. I also think that Honda is aiming in a more sophisticated sporty direction with this generation. Which admittedly some will like, and some will miss the less mature vibe of the 10th gens (myself included to an extent). However that giant spoiler on the test car still says they haven't totally lost the soul of the CTR.
It is a shame that the Swindon plant is closing.. however I don't really see any issues with them being built in the states. The CTR engine already came from here (they produce all the turbo engines in the Ohio plant I believe for both Honda and Acura). You also have to look at Honda's not-so-great sales numbers in the UK (plus Brexit fallout). Unlike here, German cars dominate the UK market, causing the civic to struggle even more, so it makes sense to bring it here, condense manufacturing, lessen the amount of import/export going on getting the engines and finished cars back and forth, etc. It would be a good way for them to lower costs across the board, so that they can potentially dedicate more resources to the quality of the civic.
I also have a bit of a theory that honda may try to lower the cost of entry for this generation. The civic is already one of the most expensive compact cars to get into, and now that the Fit is gone, they lack an easy entry to the brand... Honda may attempt to lower the cost of the LX (or even introduce a lower trim) while keeping the quality up across the range.