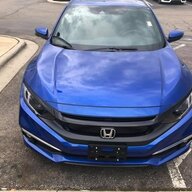 First Name

Robb
Joined

Sep 10, 2020
Messages
Reaction score

163
Location
Car(s)

2019 Honda Civic EX Coupe
The 10th gen interior materials are a disaster too.
Just sit in a 2020 Mazda 3 and then go to a 2020 Honda Civic (same price range). It's very disappointing.
I would hardly call the 10G interior materials a disaster. Sit in ANY small affordable compact and you'll see about the same or worse quality materials used throughout. In fact, with the exception of the Mazda3, the civic's interior material selection is closer to top of the class for this price range of car. Mazda is the oddball out because of their luxury automaker aspirations. Most automakers that still sell a compact sedan use far more hard plastics in obvious touch points than the civic does.
A new exception to that might be the new Sentra's interior (it at least looks nice, but I haven't had the chance to sit in one yet). But Nissan put all the of the money in the Sentra's interior and the car suffers from it mechanically and dynamically. You could say some of the same about the Mazda3(downgraded rear suspension setup). I'd personally rather have a car that performs better with a slightly cheaper interior than a lush interior and ho-hum dynamics in how the car performs.
Also important to keep in mind... just because an interior looks and feels nice, does NOT mean the materials are of actual quality, and could wear very badly over time compared to the objectively "cheaper" looking/feeling materials.