First Name

Balu
Joined

May 11, 2023
Threads
Messages
Reaction score

108
Location
Vehicle(s)

2023 CW CTR
Im always hesitant to get better tires just because I feel like at my level it really won't even matter.

Did you change the brake fluid yourself or did you get it done. Im in the process of building up my tools (thinking about getting a Quick Jack) and I'd like to learn how to bleed the brakes on my car, but I would be more convivent to take it to a shop and get it done. My only worry is that idk if they'd actually do it right and torque it down to the proper specs.

As far the 0W-40, I actually talked about different grades of oil in another thread but I met a FK8 owner who tracks his car regularly and he told me that he uses. Motul 300V, he says that it matters more about the quality of the oil, even if its thin as long as its high quality it will be fine. My question for the oil is, would running 0W-40 affect your warranty if something was to go bad? I looked into running the Motul 300V but Motul oils are not API certified (because its for racing, not street driving). I remember reading somewhere that Honda requires an API certification for oil. The guys FK8 is out of warranty so its not an issue for him.
If you're just a beginner, run whatever tires you have until they are out of tread. No need to jump to 200tw tires if the cost is a burden, you're not setting lap records, your time is actually spent getting familiar with the handling and managing traffic on track and getting smoother overall.
Yeah I did the brake fluid myself. I have a kit from speedi-bleed for a one person quick brake bleed job with a bottle from Amazon for collecting the fluid bled out. Bleeding brakes and swapping out pads are some of the easiest work you can do on a car, lots of YouTube videos of people doing both on FK8s which use the same brakes. Just follow along step by step and it's easy.
Quickjacks make doing all the work on this car easy. Big fan of them.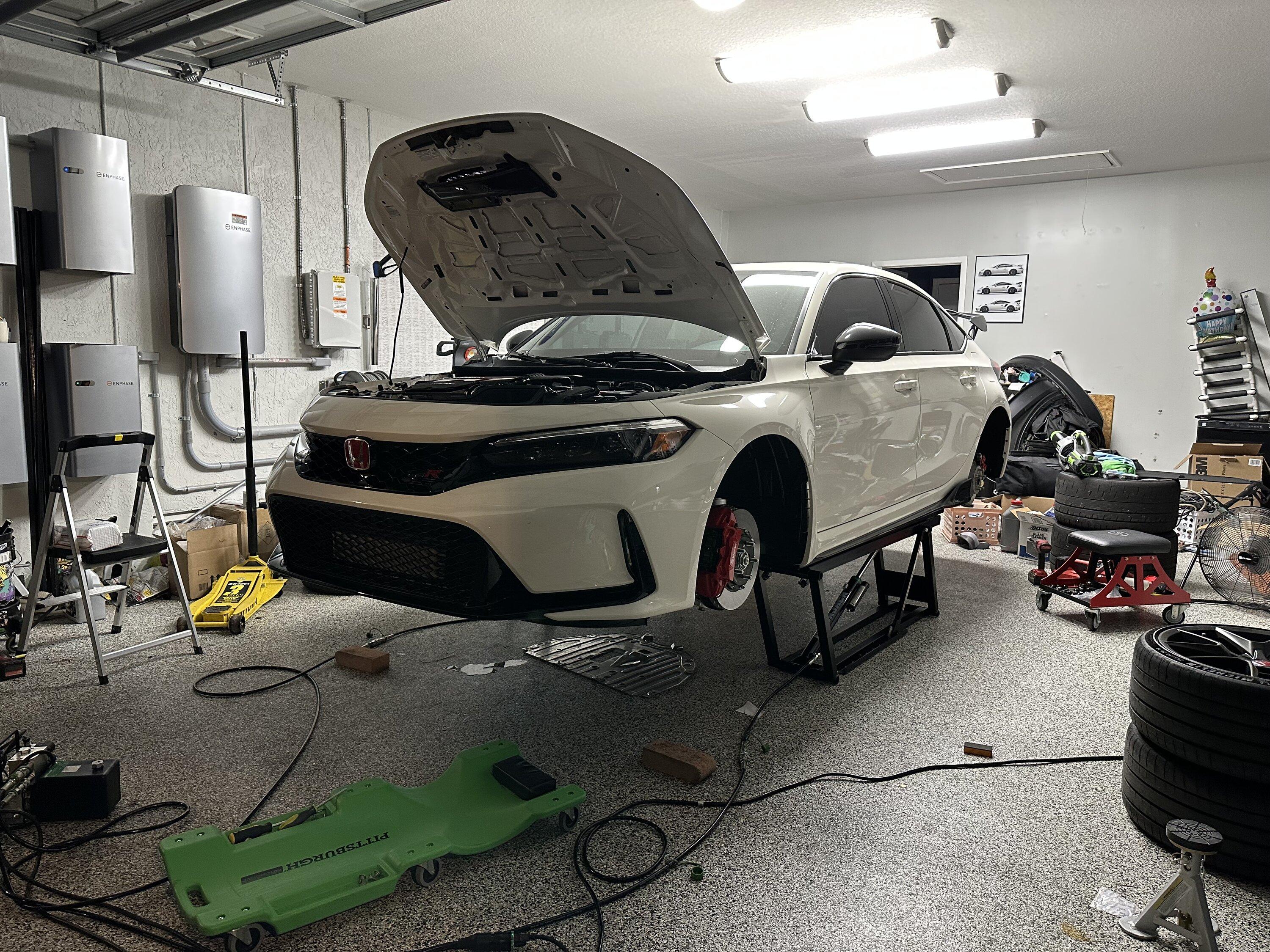 I went with the Amsoil because it's API SN rated and the guys on bobistheoilguy forums and the FK8 forum seemed to like running 40w oil on these when tracking. I had it left over from a previous car. I think high grade 5w30, 0w40 or 5w40 (which is what JAS recommends for the FK8 TCR race cars) are all fine in these motors. I don't think there's anything wrong with 0w20 oil per SE, but I like the extra protection of the heavier oil at the higher temps people report on these on track.