Hello guys.
It is a blast to come back to discussion boards after so many years "offline"
I've been tuning cars now for almost 2 decades, professionally for about 14 years and counting. We are behind many local tuning groups and at this point we've been tuning over 5000 cars every year worldwide.
Why the f*ck am I saying that? Well... It all started in early to mid 2000's on honda boards such as honda-tech, pgmfi, and many others. Those boards led me into buying an old honda, that didn't work very we'll, and that got everything in motion.
That being said I am very thankfull to the people who were, and are willing to share valuable informaton in order to grow as a comunity, and since we've been in the shadows for so long makes this a good oportunity to retribute. At least I hope it does.
For a couple months now I've been waiting on the delivery of my new Championship white FL5 type R. It is sitting at the dealer right now since Honda Brazil has a very stupid policy that the car must sit 30 days at the dealer prior to delivery. I have 17 more days to go lol.
But that didn't stop us. Ever since the anouncement of the launch of the Fl5 I've been chasing every possible source to get my hands on every possible document into this ecu and calibration, and as they say, hard work pays off, lol, we got a bunch of good stuff in hands.
And since a couple FL5 were already delivered, we got the chance to get a baseline of the 295bhp BRDM tune on a customer car, and start from there. We did get to a P700 tune, but lets start with the basics:
We ARE NOT Using HONDATA for this. We are tuning at almost OEM level so we can live tune, and have access to every one of the tens of thousands of tables in the MED17.9.3 ECU
I've seen people talk about how complicated of an ecu this is. But honestly, it is the other way around. Honda did a great job tuning the car so every aspect of the tune was very well addressed, mostly using BOSCH functions, that are similar in every car manufacturer, unlike BMW for example that creates tons of proprietary functions to resolve issues that they failed to fix with brains.
The FL5 is tuned like a supercar is. Plain and simple. As it should be.
This is the baseline for the BRDM tune:
First test was to flash the JDM tune and make some logs, then tweak just the basics and do some more logs and we got the following results: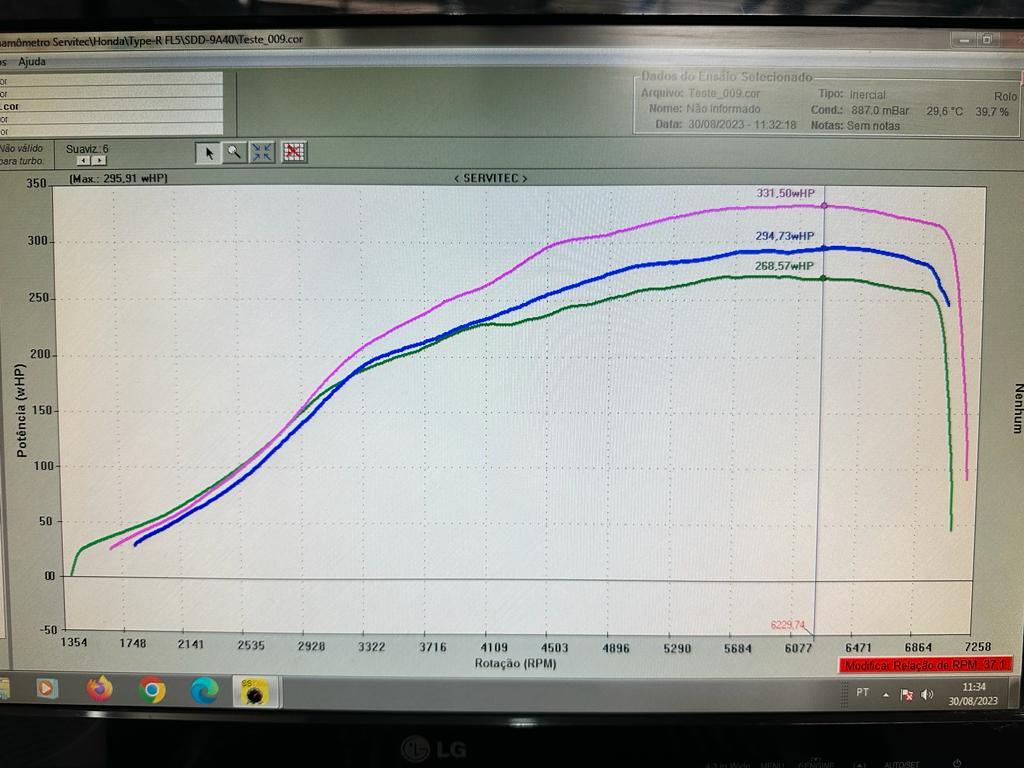 270 was the baseline, 295 on the JDM tune, 332 on a first test.
I was REALLY impressed to be honest. The main reason is many cars when we start raising the boost, we fall into areas of load and boost that were never calibrated in the first place, so weird things happen. But not in this case. The basis of the software is properly tuned and everything was smooth all the way.
This was the first tuned type R in the country, so we did not wanted to push too far. We kept the boost at 22-23 psi peak and tapering to 17-18 at the top. (I can provide logs for those who are interested). Our fuel is very good so that helps too, we have E27 at the pump, at around 102 oct.
We pushed a little harder, tweaked the timing, a little bit of cam tuning, a couple more pulls and we finished the day like this: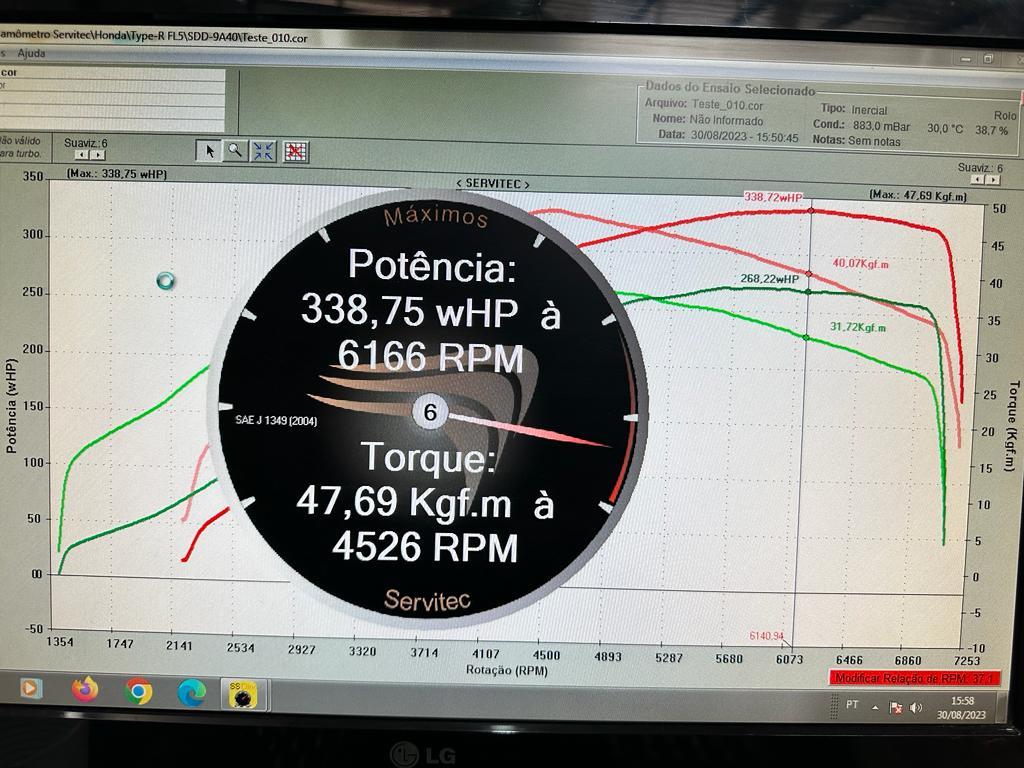 That is 70whp over stock on a bone stock car with reasonable boost. I love it.
Now for the process:
Usually when you press on the throttle, the car checks what driving mode you are in, then the gear you are in, then how far you have pressed the throttle pedal, then your current RPM, and calls for a specific torque value:
This for exemple, is 2nd gear, R-mode. If you press full throttle at 3000rpm that means you are calling for 483NM of torque at that moment.
But the car does not have 483NM from the factory, why?
Well, there are a series of limiters in between what your foot calls and what de engine delivers. I will try to simplify but not too much.
IIRC Hondata kinds of max this out in their base tune. Im not a big fan of this strategy.
Next one in line would be this one:
this % is based on a value of 600NM, so when we see 71.4442% torque limit, that means around 428NM of torque.
Hondata translates this into torque already for a better understanding, but they also max this table out on their base tune. I would never do that but whatever.
If you raise this value, the ECU will call for more torque, so more boost. This works for some time before you find boost limits.
Bosch ECUs have lots of single byte boost limiters, but most of them are set high enough for most of us, so I will not talk about them now.
But compaction ratio limits are very well modeled. There are 8 of them
They all look similar, and are all there to limit boost for various reasons. The keep the turbocharger from surging, overspeeding and etc. This are very important because if you only call for torque, imagine the struggle if you drive up into 10.000ft elevation and the car keeps trying to deliver the same torque.
I WOULD NOT max this out, in fact usually we raise all tables toghether bit by bit untill we get the car on spot. That helps keeping everything safe in various situations. This is specially good when you tune a car that will see different atmosferic conditions and you don't want any surprise.
Keep in mind Y axis is this case is atmosferic pressure, and the tabe values are not boost, but compaction ratio, which is roughly the relation between the pressure on the inlet tube and the turbo outlet.
I'll end the post here and get back to work. I have no Idea if this is of anyones interest. But if it is, we can go on and on.